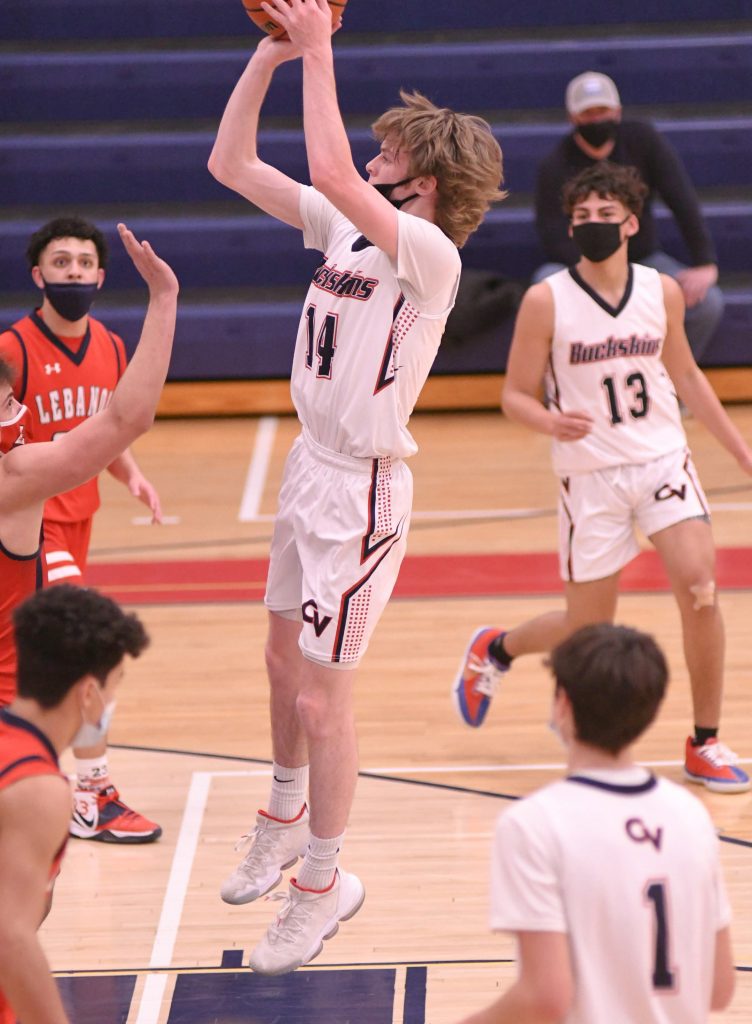 By Jamie Handwerger '23 and Ethan Miller '23
While the Conestoga Valley Buckskins kept up throughout the varsity basketball game on Tuesday, February 9th against the Lebanon High School Cedars, the fourth-quarter offense by the Cedars ultimately led to a loss.
Senior guard Luke Rumbaugh fueled the Bucks offensive attack throughout the night and ended with 24 points—13 of which came in the first half. The first quarter started off strong with CV in the lead most of the quarter and great defense. Defense in the second quarter kept the team in the game with steals, a block, and some influential rebounds. Throughout the game, three-pointers became a necessity for both offenses after some failed layups, with Rumbaugh and junior Austin Wertz leading the way. In the 3rd quarter, a trio of points from Rumbaugh kept CV in the game.
Wertz, senior Gabriel Matos-Morales, and senior Kyle Thrush also had huge parts in keeping the Bucks in the game, with Thrush having a great defensive first half and passing on the offensive side. Wertz helped keep the score close late in the fourth quarter with a trio of steals and defensive plays. Unfortunately, the team's efforts were not enough to overcome a strong Cedars offense, and the team lost by 12 points, falling 42-54.
Box Score
| | | | | | |
| --- | --- | --- | --- | --- | --- |
| | 1 | 2 | 3 | 4 | FINAL |
| CV BUCKS | 15 | 7 | 11 | 9 | 42 |
| CEDARS | 13 | 14 | 13 | 14 | 54 |