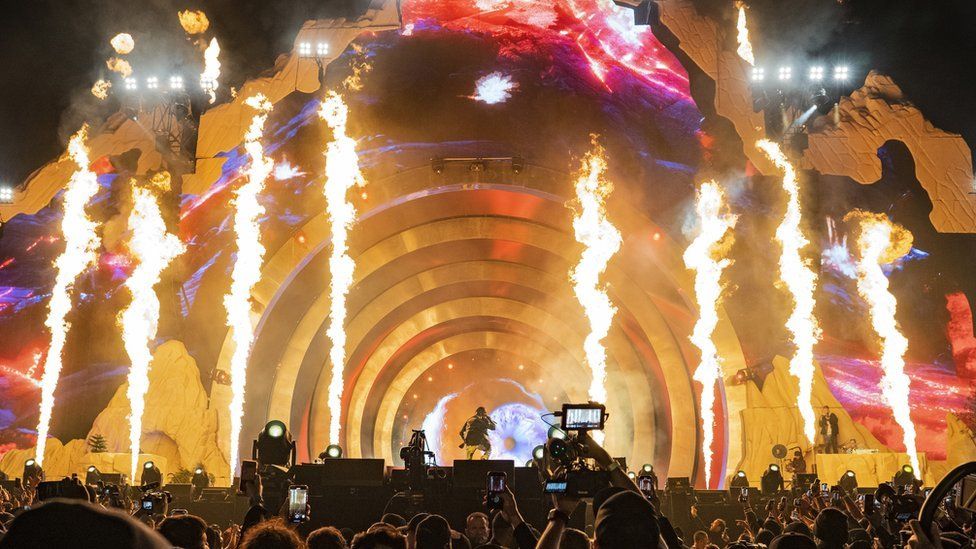 By Lilian Ennis '23
In November 2018, Rapper Travis Scott created a festival he called "Astroworld," a place where he and his fans could connect through their love for music. That wasn't the case on November 5th, 2021, though. In NRG Park in Texas, 50,000 thousand people attended Astroworld to see Scott perform. As the concert went on, fans kept getting closer to the stage. Variety staffer Emanuel Okusanya claimed to have seen hundreds of fans pushing to get toward Scott. Okusanya stated that a multitude of mosh pits broke out, which led for fans to fall, causing a "domino effect."
In a video circulating around the internet, you can hear desperate fans screaming for help. One man can be heard in the background saying "This guy's been dead for 5 songs now."
Among the victims was 9-year-old Ezra Blount. According to reports, Ezra suffered a brain, liver, and kidney trauma.
In a statement, Ben Crump, a family attorney said "The Blount family tonight is grieving the incomprehensible loss of their precious young son. This should not have been the outcome of taking their son to a concert, what should have been a joyful celebration. Ezra's death is absolutely heartbreaking. We are committed to seeking answers and justice for the Blount family. But tonight we stand in solidarity with the family, in grief, and in prayer,"
Along with Ezra, here are the victims of the Astroworld tragedy:
Franco Patino, 21
John Hilgert, 14
Brianna Rodriguez, 16
Rudy Peña, 23
Basil Baig, 27
Jacob E. Jurinek, 20
Axel Acosta, 21
Madison Dubiski, 23
Bharti Shahani, 22
May they all rest in peace, and may the familes of this horrific devastation find peace within thier hearts.