CV Sophomore's Memorabilia Collection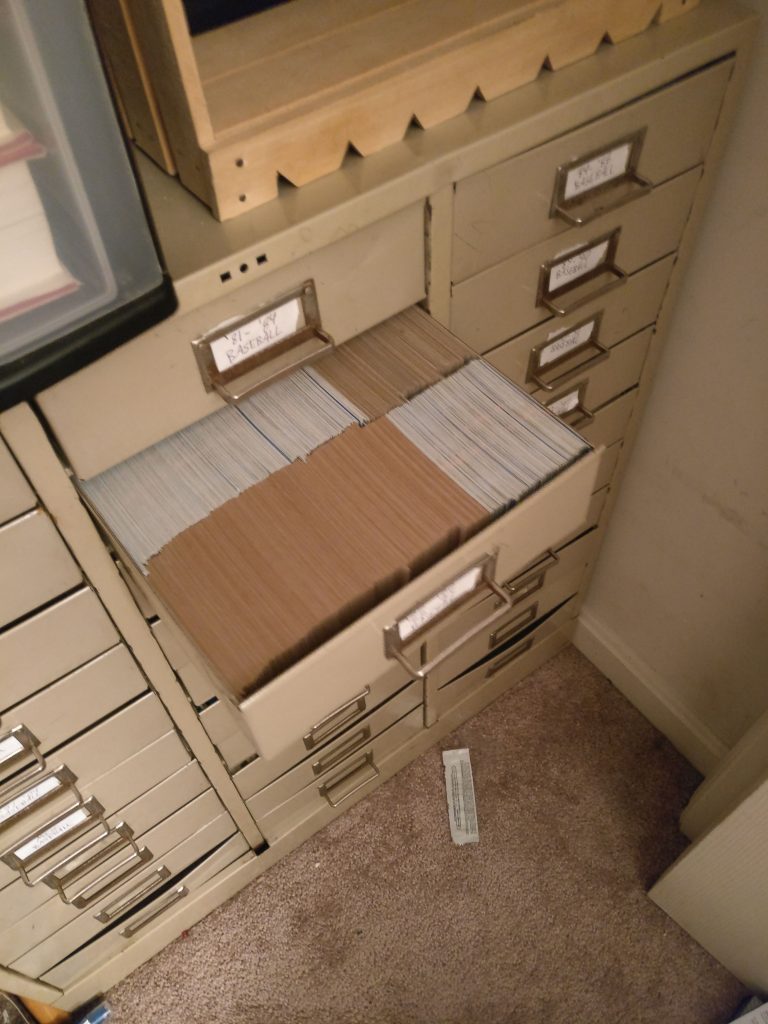 By Ethan Miller '23
Collecting baseball cards is a thing of the past. Americans in the 80s and 90s were obsessed with collecting their favorite players on 2-by-3 pieces of cardboard. These days, baseball cards are making a comeback, especially with Donavon Eby, a sophomore at CVHS. He has been collecting sports cards, memorabilia, and other collectibles since 5th grade.
"I started when I was digging through my dad's old cards, just started sorting them, and got hooked," Eby explained.
Eby has, by his estimate, over 50,000 pieces of memorabilia, and he continues to add to its impressive size. Does he intend to ever finish the collection? The answer? A resounding "No."
"There is no point in completing a collection," he chuckled. "You keep buying stuff until the day you die."
The collection is mostly filled with baseball and football cards, but he also has a large number of signed game balls and an impressive Elvis Presley collection. The crown jewel of his collection, an autographed Donovan McNabb jersey, has an interesting story behind it.
According to Eby, he acquired it from a neighbor who had no space for it in his house. This piece of memorabilia is sometimes valued at over $500, but Eby only paid the $20 for the score.
While growing the collection is always a goal, Eby's main focus has been getting the cards autographed. He has nearly 1,000 cards that he has sent in the mail to players that have been signed and returned to him.
Some autographs take months, or even years to be returned, but with the number of cards he sends, he is constantly receiving mail.
Eby said that "a surprising amount of players do this [sign cards]."
Patience is an important virtue in collecting, as Eby can attest to. He finds a majority of his items at auctions, which takes a long time.
"I just have to sit there for hours waiting to get this one thing," he explained. "And sometimes I can't even get it because it's too expensive."
For anyone interested in starting a collection of their own, he offers the following advice.
"You kinda have to find the old, ratty thrift shops that nobody goes in and dig through that to find stuff," Eby recommended.
Yard sales are also a good option, as the cards he sends to get signed are not typically rare cards, but common ones because they are easier to find.
If looking for higher valued cards, Eby said, "Auctions are a good place to start." He warns, however, that anybody browsing auctions makes sure to exhibit self-control.
"Think about what you want before you go for it, and don't be impulsive," he advised.
Eby says that he feels he has limited himself as much as he can and that he has exhibited enough self-control to keep his room livable.
"This room would be floor to ceiling packed with stuff if I bought everything that I've wanted to buy," he laughed.
As for the future of his collection, he sees it as a never-ending hobby. He views it as a means of money in the future, though he also says that it can be difficult to sell items that he is interested in.
"It's an investment," he remarked. "When I'm 80, it will be valuable. It's an investment."