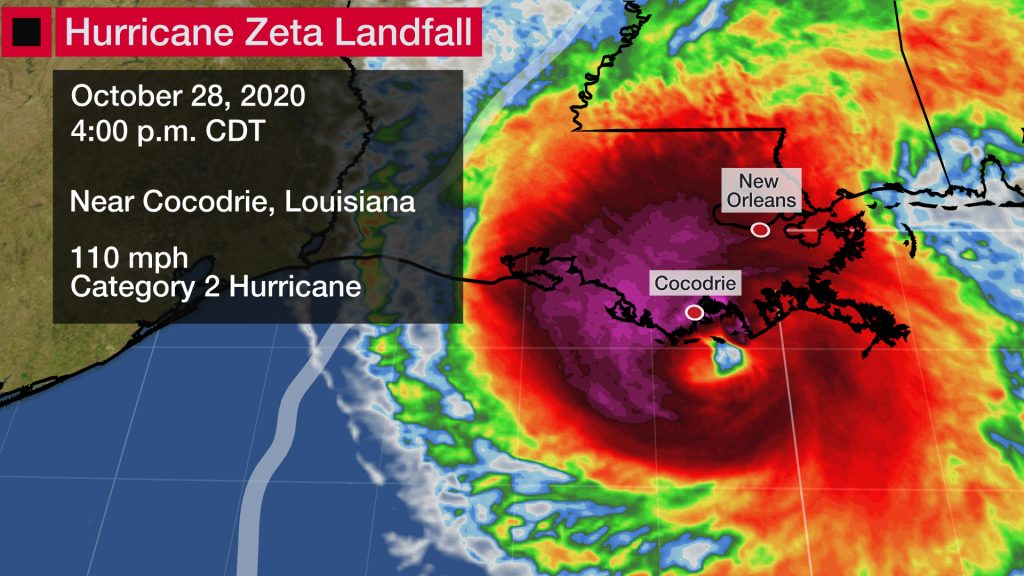 By Kayleigh Hendricks '23
Hurricane Zeta, a Category 2 hurricane, made landfall over New Orleans, Louisiana on Wednesday, October 28. Zeta was just one mile per hour short of being classified as a Category 3 hurricane. The devastating storm left millions without power across seven states and killed at least six people. Zeta reached seven other states early Thursday, flooding the streets of Mississippi, Alabama, and Georgia.
"The storm made landfall about 4 p.m. CDT Wednesday near Cocodrie in Terrebonne Parish and moved over New Orleans with howling winds and driving rain," Ron Brackett, a news reporter for The Weather Channel said.
As Zeta made its way to the final destination in its path, the winds started to calm down.
Susannah Cullinane, Dakin Andone, and Joe Sutton, reporters for CNN said, "The storm was still packing winds of 50 mph as of 5 p.m. ET Thursday as it approached the southern tip of New Jersey. But the storm was forecast to move out over the western Atlantic later Thursday night, according to the National Hurricane Center."
Zeta's effects have also been fatal to residents in the hurricane's destructive path.
Victoria Albert, CBS news reporter explained, "Three people in Georgia and one person in Alabama were killed when trees fell on their homes, authorities said. A 55-year-old man in Louisiana died after touching a downed power line, prompting the mayor of New Orleans to warn residents to let safety officials assess the storm's damage, and a man from Alabama drowned in Biloxi, Mississippi."
Hurricane Zeta was the sixth hurricane to make landfall in 2020.