Mr. James Hovan reflects on over 25 years of teaching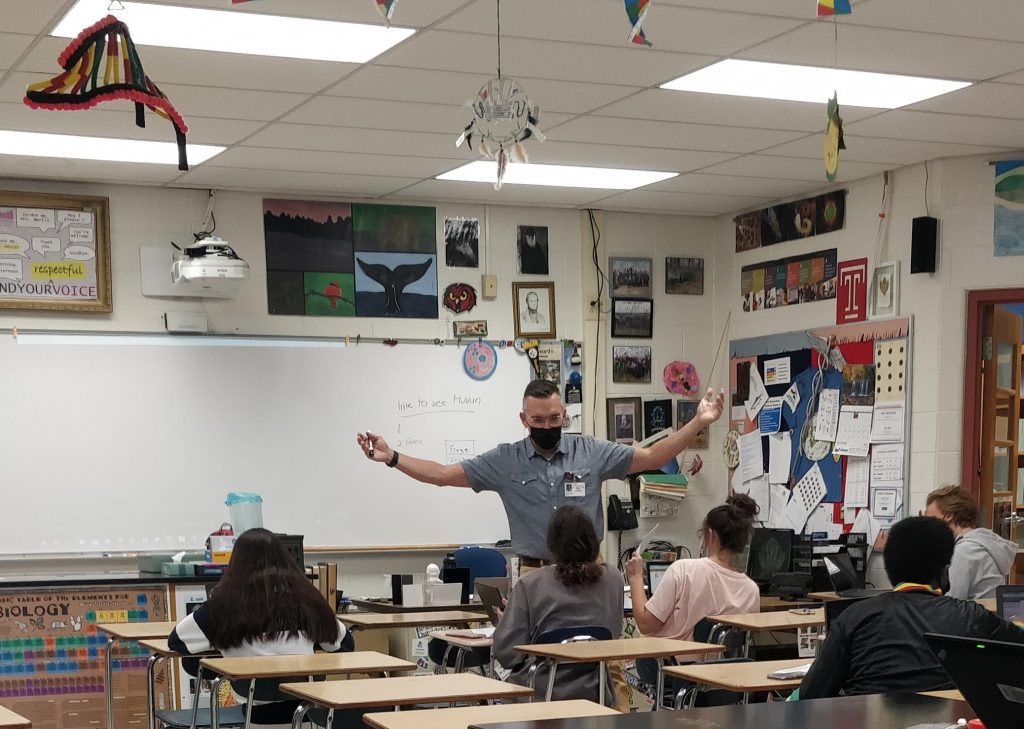 By Ethan Miller '23
As the son of a teacher, Mr. James Hovan was sure he did not want to become a teacher himself. That all changed for the science teacher when he was assigned to deliver a lecture on Walt Whitman to his college American Literature class.
"I really really enjoyed getting ready for it, and I really really enjoyed doing it, and at that point I thought, 'Hm, maybe this is what I'm supposed to do,'" Hovan reflected.
The chance assignment changed his career choice and, ultimately, the path his life took.
Growing up, Hovan always had a fascination with Biology and English, so when he went to college, that was the natural path to take. But when he taught that class, it revealed to him a passion he had in teaching that he didn't expect.
"I was also shadowing a couple different people in other professions that are biology and health science related at the time, and I just didn't have the same type of spark that I got when I got to teach that class," Hovan said.
He decided to go for his Master's degree in teaching while he was in college, as he would have needed to acquire it in the early years of his career anyway.
"So I found a program at the University of Pennsylvania, it was a year and a half master's degree, student teaching, teaching certificate, the whole deal," Hovan recounted. "They were excited for me to get certified in English and Biology, together, so I got a chance to do student teaching in English and Biology at a school in Philadelphia, and then that was it."
Mr. Hovan began his teaching career at South Western High School in York County, and spent the first 5 years of his career there teaching science. What ended up prompting him to make the switch to Conestoga Valley was his future wife, Mrs. Hovan, who teaches at CV in the math department.
"I liked the fit of CV, the school, it just seemed like the right place for me; my wife and I were engaged at that point and I thought it would be pretty cool to work where my spouse worked, so it kind of all fell into place," Hovan explained.
One thing most students of Hovan don't know is that he initially was hired at CV to teach English.
"Yeah, I actually was an English teacher here for my first 2 years here at CV. I taught down in the English wing, and I taught 10th grade Lit, and Basic Comp, and a couple of different English classes."
This is his 23rd year at CV, and his 28th total teaching. Currently, Hovan teaches Biology, Ecology, AP Environmental Science, and Honors Scientific Research. His classroom is quite untidy, and while he admits to being embarrassed by it, he knows that it's part of what makes a science room interesting.
"I remember back in high school, with science classes particularly, if I went into a room that looked like my room does right now, I'd say, 'Oh, cool, we're gonna be doing activities and stuff,' Hovan said. "And if we went into a room where you couldn't see anything, then it was like, 'Aw crap, we're not going to be doing anything in this class, it's gonna be bookwork and filling out worksheets or whatever.' So, I remember registering that really young, and thinking if I ever taught I'd be a teacher that's got all kinds of stuff going on, and I've done my best to deliver on that."
One of the reasons why he loves teaching so much is his interactions with his students.
"I feel like I try to develop good relationships with my students, and I am concerned with where they're at, where they've been, and where they're going."
When he was in high school, Hovan wanted a job with variety. In teaching, he thinks that he has found that job.
"I really think teaching is the perfect job for that, because even if you have the same class that you teach repeatedly during the course of the day, the students that you get are different, and each class has its own personality, so if you're being honest with yourself you're gonna deliver that class differently to different people," Hovan explained.
At 50 years old with over 25 years of teaching under his belt, retirement is closer than one would expect for the energetic teacher. In 10 years, he sees himself moving on from teaching, but staying in the science field.
"I'll be young enough that I can still do something else, so I think I'll probably take advantage of that situation to be able to see what else is out there for me," Hovan said. "I'm kind of interested in working in science education but more in a science museum kind of format then a classroom format, so I think I'll probably do something along those lines."
In 20 years, he hopes that he's still able to be as active as he is right now. Always a lover of the outdoors, Mr. Hovan spends much of his free time in nature hiking, fishing, and biking. Over COVID, he started road cycling and has quickly honed his skills on the road.
"I want to ride 100 miles before the weather gets bad, just to be able to say I did it, so I'm trying to work my way to do a true century ride," Hovan explained.
Outside of school, he also enjoys watching sports with his son, especially soccer, which he's been a fan of for his entire life. He also enjoys discovering new music, and listening to audiobooks and podcasts. Oh, and making hot sauce.
"I just made a batch of habanero hot sauce and gave it to a bunch of friends of mine, so maybe the fact that I am a hot saucier is something that is not well known about me," Hovan laughed.
As he reflects on his life, Hovan believes that he has achieved his childhood dream.
"I think ultimately, you want to be happy and make the world a better place than you found it. And I think, at least I hope, that when all is said and done, people will say that I was able to do that."
To hear the full conversation with Mr. Hovan, listen to the podcast episode on Spotify