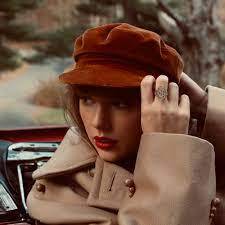 By Lilian Ennis '23
After its original release back in 2012, Taylor Swift dropped RED (Taylor's Version) on November 12th 2021 and fans are going crazy!
The talented singer-songwriter, Taylor Swift released RED (Taylor's Version) almost 10 years after its original release, giving fans a touch of nostalgia. Back in November of 2020, it was confirmed that Scooter Braun sold Swift's rights to her first six albums after buying them from Swift's former manager, Scott Borchetta, CEO of Big Machine Records, Swift's former label. After hearing the news of her 'stolen' music, Swift took to Tumblr with a lengthy post that deemed the sale of her music "the worst case scenario."
Soon after promising her fans that she would re-record her first six albums, the singer came out with Fearless (Taylor's Version) on April 9th 2021. Giving fans her version of fan favorites such as "Love Story," "You Belong With Me," and many others. Swifties went wild! They got to enjoy again the feeling of their favorite childhood songs. Not long after, on June 6th 2021, Swift announced she would be releasing RED (Taylor's Version) in November. Again, Fans. Went. Crazy.
"9 year old me is shaking I love you so much!" Twitter user @taysdaisyy expressed her excitement for Swifts re-recorded album
Fans can not wait for Taylor's next re-recorded album. But until then, we have no choice but to "Stay Stay Stay" with RED (Taylor's Version).