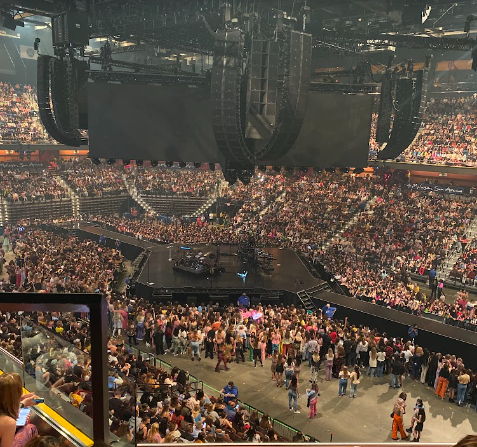 By Lexie Kauffman '22
Global superstar Harry Styles has been in the public eye since 2010 when he competed in The X-Factor with band One Direction. The famous band did four world tours, two of which were stadium tours. After the band went on hiatus in 2015, Styles, and all of his bandmates respectively, explored the solo music avenue.
In 2017, his first album, self-titled Harry Styles, became one of the world's bestselling albums of the year. Following the success of his first album, Styles toured on his tour Harry Styles: Live on Tour from September 2017 to July 2018, performing across the world for 90 shows.
In 2019, Styles released his second album: Fine Line. Fine Line hit the charts immediately and holds the record for the biggest first-week sales by an English male artist in history. On the album is the Grammy winning single, "Watermelon Sugar."
Styles originally planned to ride Fine Line's popularity into a world tour in 2020. However, like many artists, he was forced to postpone. After rescheduling the dates twice, eventually landing in late 2021, Styles used the pandemic to film movies, including Don't Worry Darling (2022) and My Policeman (2022). Fans did not receive any news as the tour dates approached; many assumed that it would be postponed again as most events continued to be.
This was not the case for many of the concert dates. Styles was forced to indefinitely postpone the global aspect of his tour, but the United States Covid-19 guidelines allowed him to push forward on his tour.
On September 4, 2021, Harry Styles: Love on Tour began in Las Vegas, Nevada. Styles has continued to tour consistently, adding even more US dates to the end of his tour, bringing the total number of shows to 42.
Love on Tour is one of the first full indoor arena concert cycles to happen in the United States since the start of the pandemic. Styles is determined to keep the tour going and to keep his fans safe.
Audience members must provide proof of vaccination or a negative Covid-19 test within the last 48 hours to attend his shows. Masks are also required for all fans and crew members in attendance. At the start of the show, a pre-recorded announcement plays reminding fans to keep their masks on the entire concert. Styles also cancelled all meet and greet activities. He arrives on stage via a pathway underneath the set up and he leaves stage with a mask on.
Harry Styles: Love on Tour has set the precedent as more events begin to open. As concerts and large gatherings start again, most are requiring Covid-19 protocols, like masks or vaccination proof.
Styles will continue to tour the United States until November 28, 2021, in Long Island, New York. The fate of his global tour dates is still unknown. Styles continues to make music and movies while finding time to tour, having signed a five-movie-contract with Marvel.
As his tour continues and his future endeavors come to fruition, don't be surprised to see the name Harry Styles in the headlines.