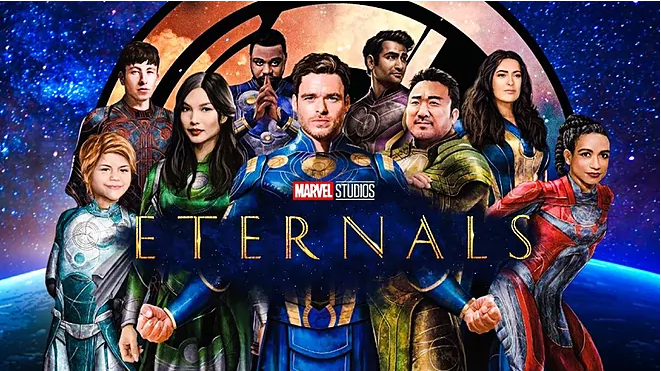 By Lexie Kauffman '22
The following article will contain spoilers for Marvel's Eternals.
On November 5, 2021, Eternals released in theaters. Directed by Academy award winner Chloe Zhao, the movie follows the journey of ten immortal beings that must complete their purpose on Earth.
Following the plot of the Marvel comics by the same name, Eternals expands the Marvel universe in more ways than one. As Spider-Man and Doctor Strange explore the multiverse, Eternals opens doors to outer space and celestial beings.
The movie also introduced a whole new cast of characters, and actors to the MCU. The ten main characters are portrayed by a plethora of actors, including big names like Gemma Chan and Angelina Jolie. Game of Thrones fans are excited to see Richard Madden and Kit Harrington enter the superhero world as well.
Like all Marvel movies, Eternals did not end when the credits began and neither did the star-studded cast. Two end credit scenes followed the film, setting up numerous new characters in future movies, including the brother of Thanos: Eros, played by Harry Styles.
Eternals also paved a more inclusive path for characters like Makkari and Phastos. Makkari, portrayed by Lauren Ridloff, is the first deaf Marvel superhero to be put on the big screen. The comics has been home to many hearing-impaired characters, including Clint Barton, but Makkari is the first to join the cinematic universe.
Brian Tyree Henry played Phastos, the first gay Marvel superhero to hit theaters. Similar to Makkari's situation, Phastos is not Marvel's first gay character. In fact, many of the Marvel comics depict stories of LGBTQ+ heroes. Loki was the first on-screen character to be canonically LGBTQ+, coming out as bisexual in Loki on Disney +. However, Phastos takes the title as the first canonical gay superhero to be in a Marvel movie. Phastos and his husband Ben share the first same-sex kiss in all MCU productions.
Eternals explores space and time in the Marvel universe while creating a new inclusive space for characters like Makkari and Phastos as well as racial representation throughout the film. The early Marvel films often featured casts with predominantly white casts, but Eternals cast is home to numerous actors of color, including South-Korean American actor Don Lee, Pakistani-American actor Kumail Nanjiani, and Mexican-American actress Salma Hayek Pinault. Eternals is 2 hours and 37 minutes of family tensions, world conflicts, and inclusivity. As Marvel continues into phase 4, these new beloved immortal beings will continue to grace movie screens across the world in upcoming sequels.