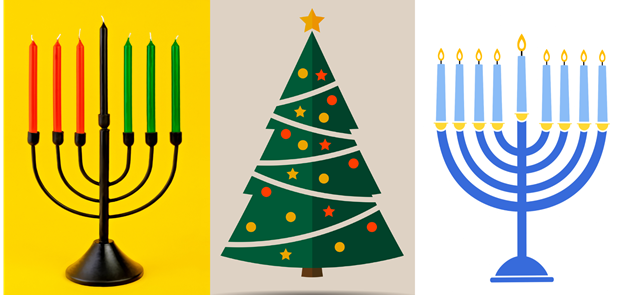 By Annie Miller '25
Christmas can be the most magical time of the year. Hot cocoa, the smell of pine trees, and gift lists. The most exciting part for students is being able to sleep in over break.
However, there are people around us who probably feel overlooked at this time of year. People who might not be decorating a Christmas tree, but rather celebrate Hanukkah, Kwanzaa, or Rohatsu, might appreciate more acknowledgment and interest in their cultural celebrations. You and your family can be more holiday inclusive this season by doing the following:
 -If you have friends or family who celebrate a different holiday, ask them about their holiday and what their traditions are. Do they cook any special dishes, or put up any decorations? What about prayers or reading a scripture? 
-In Germany, there is a tradition where the parents hide a pickle ornament in the tree, and whichever child finds it first gets to open their presents first, or gets some other reward. In Iceland, family members celebrate Jolabokaflod (or "Christmas book flood"), a tradition where books are exchanged on Christmas Eve and are read throughout the night. You can do this on any holiday you celebrate!
-Some other simple ways to respect other holidays include putting up a Menorah, playing dreidel, or simply reading about other cultures and their traditions. Invite friends to a dinner where you all bring a different food that is related to the holiday you celebrate! Listen to different types of holiday music, exchange gifts and have fun while learning.
-Keep in mind that different cultures could have dietary restrictions, like meat, alcohol or dairy. If you're hosting a party, make sure you know if there are other holidays observed and offer a variety of foods so everyone feels included. Guests might need a quiet place to pray or practice other religious obligations during a party, have a designated room or corner and point it out when the guests arrive so they know where to go.
These suggestions are but a few in creating space for all of us who are seeking comfort and joy from our family and/or cultural traditions. Happy Holidays-the more the merrier!