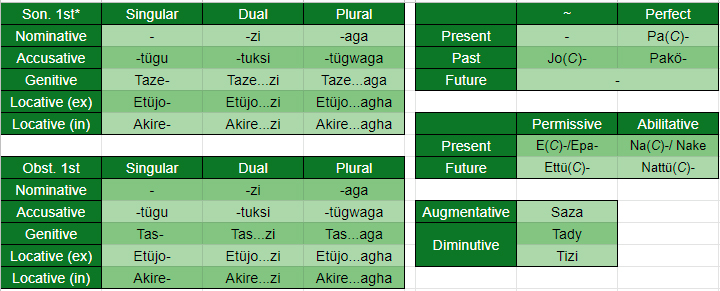 By Dianellys Yera-Vargas '20
Linguistics. Not usually the hobby most people believe to be a 17-year-old high school senior's passion. Owen Henry, however, is not the usual teenager. He spends his time creating a whole world of language.
Initially he wanted to learn German because of his family heritage.
"German is probably the heaviest [language] grammar-wise, and learning about the German grammar I wanted to learn more," Henry said. "I wanted to learn how the language functioned."
Then, during his freshman year, he was influenced by a teacher to learn Russian.
"I checked out Russian and I wanted to learn how to break that down into its very bits and parts," he remembered. "I didn't ever figure it out because I just got bored of it, but eventually that wanting to break down singular languages changed into wanting to break down just languages in general."
His study of languages expanded into creating his own language, DakOne.
"I got into it with a premature knowledge, kind of like I tried to run before I could walk really, so I picked a bunch of sounds that wouldn't really make sense in any natural language," Henry laughed. "It was more something cool than something real to me, and once I got into working on the grammar that was just bad. So, when I started learning more, I stopped that, and I got to work on Nappxagu."
He has a new vison for that language which he is currently creating.

"With DakOne I wanted it to be this language of intelligence, kind of like we view Latin and Greek," Henry said. "I'm not using that same view for Nappxagu. The view I'm using for this one is, I kind of imagine, tribal. It's becoming what I want it to be. That's the important thing for me."
One would think that with all this background knowledge about linguistics he would want to build a career out of it. Surprisingly, he does not. Henry would like to become a machinist and attend a technical school.
"I do love machinery," Henry explained. "I like making things, and I love learning things, so I do enjoy metalworking and just machinery and woodworking. I just like making things. It is a passion."