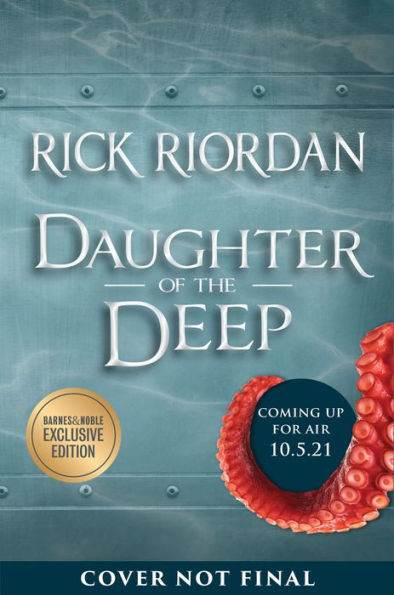 By Michaiah Johnson '23
Fans of Rick Riordan and his series will be pleased to hear news of Riordan's new book, releasing this October!
Riordan is well known for his beloved Percy Jackson series, along with several others, all based on mythology. From Greek to Roman and Norse to Egyptian, Riordan has done it all. Now, he is branching out from the mythological world with his newest installment.
Having hinted at a secret project novel for the last few months on his social media, the secret spilled to the public on February 23rd!
Titled Daughter of the Deep, Riordan's new book is based off of Jules Verne's 20,000 Leagues Under the Sea. In his newsletter, Riordan described his desire to write this story.
"I've had this idea percolating in my head since at least 2008, and it was so great to finally have the space to write it. I have been a fan of Captain Nemo's story since I was a little kid. Finally, I get to go under the sea in his wake!"
The idea first came about way back in 2008 during a dinner with Disney Publishing when he was asked about what Disney intellectual property he would like to write about. 13 years and lots of research later, Daughter of the Deep makes its debut.
This book will also be Riordan's first told entirely from the point of view of a female protagonist.
"Though obviously I've had lots of female protagonists in my previous novels, this book is told first-person solely from the point of view of Ana Dakkar, a high school freshman who learns her parentage is every bit as complicated as Percy Jackson's, though it has to do with science, not Greek gods," Riordan explained.
Riordan finished his newsletter with a glimpse at the houses (like the camp cabins at Camp Half-Blood) of Harding-Pencroft Academy, the school which Ana Dakkar attends.
"Okay, but now real talk," Riordan wrote. "Which HP house are you? And when I say HP, of course I mean Harding-Pencroft Academy. What else?"
Riordan then gave brief descriptions of houses Dolphin, Shark, Cephalopod, and Orca.
"More on this later, but that will give you just a first look at Ana Dakkar's world," Riordan closed. "I cannot wait for you to meet her!"